While you see many different fidget toys that claim to keep kids focused, that doesn't mean they actually do. In fact, many fidget toys can actually be distracting to other kids around the one actually using the toy, and overall is a huge distractor for a class.
Because many students need different things to keep them occupied while they work, fidget toys allow them an outlet to focus and be successful, rather than distracted. Our goal is to find real solutions for those students who have more trouble staying focused on their work without distracting those around them. The DIY fidget toys we chose for this article can help to reach that goal.
How to Make DIY Fidget Toys
You may be wondering, "why to make fidget toys when I can just buy one"? Well, the answer is simply this: 1. it is way more fun to make your own fidget toys, and 2. DIY fidgets encourage STEM-based thinking and building, 3. allow your child to release pent-up energy quietly. Every one of these homemade fidgets on this list encourages time with your child making something fun and also allow them to focus on the things that are really important while keeping fingers busy!
1. DIY Fidget Spinners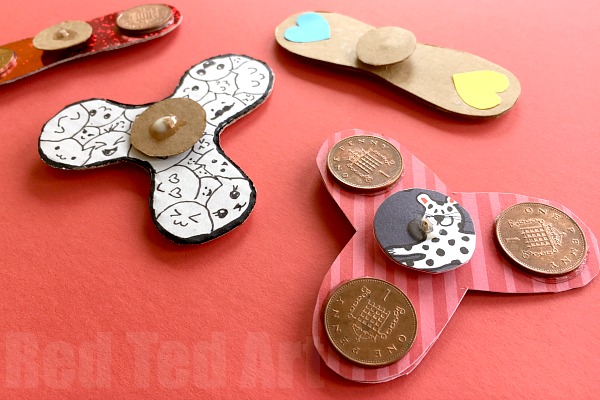 Because these little spinning fidget toys are so trendy, why not add another element to the fun by making a homemade fidget spinner?
Red Ted Art has amazing instructions on how your very own paper fidget spinner with nothing more than some cardboard, a toothpick, coins, PVA glue, a pair of sharp scissors, and a needle. Plus, on their website, you can find a FREE printable for this very project! If you want more of a sturdy fidget, use a craft stick instead of a piece of cardboard.
Learn more: redtedart.com
2. DIY Sensory Ball
I really don't know anyone who doesn't love having a stress ball. In fact, these sensory balls seem to have made their way down the toy isles at the local superstore. These things are filled with tons of brightly colored beads (or other things) to make squishing that ball way more fun. However, Amazon has a great DIY Sensory Ball kit that is super inexpensive, and you get TEN stress balls for the price of maybe two or three.
This kit has everything from the funnel, to the water beads, to the balloons! Your kids or students will have just as much fun making their own sensory fidget toy as they will play with it!
3. DIY Pencil Top Fidget Toy
There are actually a ton of ideas regarding DIY fidget toys for pencils! Who knew? While there are many options for this fidget toy on Amazon, there are also many different ways to make your own versions for your pencil top. Really all you need for this clever little fidget toy is some colorful pipe cleaners, small rubber bands, and some beads.
How Do I Do This?
First, thread the rubber band through the bead.
Next, attach your rubber band in a way that both the band and the beads are secure to the pencil.
Lastly, attach your pipe cleaner to the pencil using the rubber band.
For extra fidget fun, add more beads to the pipe cleaners on the end of your pencil.
Learn more: theottoolbox.com
4. DIY Fidget Slime
Slime is one of the most fun and inexpensive things to make that will most certainly keep your child busy for a long period of time. This particular fidget toy is easily replaceable, can be made in tons of different colors, and can include various sensory materials.
Learn more: littlebinsforlittlehands.com
5. DIY Fidget Infinity Cube
These DIY fidget toys, also known as infinity cubes, are a great way to use simple household items to create something that will allow your child to focus on schoolwork while fidgeting. If you're a teacher, making these are fun and incredibly inexpensive.
To make this infinity cube, all you need is eight dice and some strong transparent duct tape. If you don't have dice, you can pick up a wooden fidget cube at your local crafts store or order them right off Amazon.
Learn more: howtosanta.com
6. DIY Floating Bead Bracelet
Fidget bracelets range from just being as easy and putting some plastic beads on pipe cleaners to the intricate weaving of beads with thick string. In this particular case, because we like easy and purposeful, we will go with some simple pipe cleaners and plastic beads.
Why? For two reasons; 1. We know you are busy and time is everything, and 2. Because many fidgets can be made with these same materials, we know that you will also get more bang for your buck.
I really love this Art and Crafts Supplies kit because it has everything you need to make a high sensory bracelet.
Learn more: linesacross.com
7. DIY Fidget Paper Clip Craft (Key Ring)
This craft is most certainly one of the easiest on this entire list in your quest to create a homemade fidget. All you need is some large paper clips and some Perler Beads. Yup, just two ingredients to make an awesome fidget toy! Just thread some of those beads onto the paper clip, and you've got yourself a fidget that can double as key rings.
What's great about this craft (aside from it only needs two things to accomplish), you can literally make HUNDREDS of these for less than twenty dollars.
So if you are a teacher with classrooms full of kids, you will be set for a couple of school years at least.
Learn more: sensiblysara.com
Final Thoughts on DIY Fidgets
Making your own fidget toys is such a fun activity for parents to complete with their own children or for teachers to use as the first day of school activity in the classroom. Every single one of the options on this list includes extremely inexpensive materials, many of which you may find that you already have to lie around. Whatever your need, we hope this list serves both you, your children, and your students well!