With a big push in Project-Based Learning in the last decade, educators are beginning to wonder if it is all cut up to be. It is so time-consuming to implement, and students may not buy-in to a different style. We will examine the pros and cons of Project-Based Learning. But, before we jump into that, let's look at what Project-Based Learning is and how it differs from Problem-Based Learning.
What is Project-Based Learning?
Project-Based Learning (PBL) is a hands-on instruction model and pedagogy that encourages students to solve real-world problems. Hands-on instruction can make learning more effective than traditional instruction such as lectures and workbook pages. Project-based learning helps kids of any age, including high school kids, learn all subject content like math, economics, social studies, science, and engineering. Often, the end project may include checklists, portfolios, and rubrics.
Although hands-on instruction has been around since the early 1900s, there has been an increase in project-based learning in the last decade. More and more high school educators are turning to this type of instruction to teach their courses to prepare their students for the future.
Difference Between Project-Based Learning and Problem-Based Learning
Project-based learning and problem-based learning are very similar and sometimes get confused. Project-based dates back to 1918, where problem-based learning dates back to the 1960s.
In a nutshell, problem-based learning is a subset of project-based learning—problem-based learning's design centers creating a project that solves a real-world problem. Project-based learning is the overarching category that includes problem-based learning. Project- and problem-based learning both use the acronym PBL.
How Does Project-Based Learning Work?
Teachers must first create a project-based learning lesson and project. Typical projects include a literary work, an engineering project, or a mathematical model. After teachers create the project, they work backward to design the lessons to provide students with the skills and activities to complete the project. Each activity must drive them to the final project. Teachers set deadlines and help students by answering questions and providing feedback. Each student's project may look different than other students'.
Instead of the instructor acting as a lecturer, the teacher acts as a guide to help students answer the questions they conceive as they work through each purposeful activity. Students must be organized and find resources and information to help them accomplish the task given to them.
Let's dive into the pros and cons of project-based learning.
Pros of Project-Based Learning
There are many advantages to utilizing PBL in the classroom. From character traits to educational skills, students may enjoy being taught this new way and get more out of the educator's activities. Let's have a quick look at this video:
In less than 2 minutes, this video explains really well what happens, when teachers give their students a voice.
Cooperation and Team Work
Students have the opportunity to apply what they learned to the real world. If participation occurs in a group, students learn real-life skills such as communication and cooperation. A solution must be found by the group with the information provided to them. Leadership skills and interpersonal skills may be developed by a student when working together in groups. This type of instruction allows students to learn 21st-century skills that are very useful in today's career market. PBL fosters the learning process and encourages students to work together, problem-solving the task the teacher has developed.
Make Education Fun
During PBL, many students use their knowledge to have fun while completing their projects. Teachers want to have fun, and this type of instruction is one way for education to be fun. PBL helps students work independently. The projects are fun, but it also teaches them time management and the skills they need to solve problems. One of the many advantages of PBL is that it encourages students to promote creativity in their projects. Kids learn best when they create an artifact that is sharable and thought upon. They use prior knowledge to complete each activity that will become a project. Making learning fun can be very rewarding to students and increase their understanding.
Variety of Instruction Types
PBL lends itself to a variety of instruction types and differentiation. The different learning styles of your students are met using PBL. Various activities that meet different learning styles will help each student learn and increase their knowledge. You could group your students according to these styles to help reach all students. Each activity should
Deep Understanding
Another one of the numerous advantages of PBL is that it promotes deep understanding. When students aren't sitting and traditionally absorbing information, students learn more deeply. Knowledge grows, and students participate in discussions. Authentic assessment is a benefit of PBL. Retention of new knowledge is more long term than traditional teaching.
Control
Students have more control over their education with the implementation of PBL. They get to make choices, and this creates buy-in. This control makes them responsible for their learning as well. With educators serving as coaches, students can reflect and adjust their plans to make a more in-depth learning experience.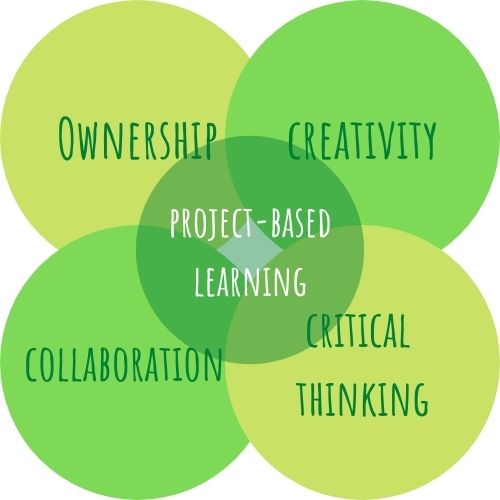 Cons of Project-Based Learning
Although PBL has many advantages, there are some disadvantages as well.
Classroom Management
Teachers need to act as facilitators for the projects to be successful; however, this doesn't always occur, especially if teachers are new to utilizing this teaching technique. Classroom management can become a problem while students are working. If a teacher is conversating with another student to develop ideas or answer questions, a student who is a behavior problem may take advantage of the situation.
Missed Content
When using problem-based learning, missing content is possible. It is probably one of the most significant issues with this type of instruction. In a traditional classroom, teachers complete a curriculum map, teaching skills in a specific order, and the material's presentation occurs, no matter what. With this problem-based learning, it may be challenging to get all the teaching into the schedule as students develop their projects. At the end of a course, the assessment can be quite time-consuming, primarily if a teacher doesn't get to teach all the content and material. Students who complete a course using PBL often fail fact-based assessments because they have spent so much time completing the project that they don't engage in enough essential course content and information.
Working in Groups
If PBL occurs in groups, lazy students may take advantage of the students working on finishing the activity. Group work can have numerous issues, including staying on task. As a teacher plans for the instruction, it is essential to figure out how to hold each student accountable through the process and planned activities. Each classroom runs differently, so cooperative groups may not be possible with one class but is possible with another.
Most of the problems and cons of problem-based learning centers around group work. If a teacher takes time to develop activities and a comprehensive class, most of the cons will disappear.
Challenging Aspects
There are three challenging aspects to PBL to be aware of. First, classroom management can change drastically for both the educator and the students. Students need to talk to each other and maybe even move about the room more than usual. This can influence classroom management. Roles switch as students take control and responsibility for their education. It may be an uncomfortable change for both the educator and the students. Negotiating might also be challenging, especially for students who do not have experience in cooperative groups. As an educator plans for PBL, it is vital to keep these challenging aspects at the front of his/her mind.
Is PBL Effective?
After reading all the pros and cons of PBL, it comes down to is PBL effective? It can be very effective. However, to be effective, classrooms must run like well-oiled machines, and time management skills are a must. Teachers must predict issues before they happen and plan accordingly throughout the school year. Classrooms that implement PBL with fidelity will see a growth in knowledge and critical thinking. To be effective, assessment should occur periodically throughout the year instead of one final assessment at the end. This helps educators know what students are learning and how to help them best.
If a classroom implements it half-heartedly and the teacher uses the time as a break instead of a facilitator, PBL will not be effective. PBL is a lot of hard work to get started, but it will make all the difference if implemented correctly. Keep in mind; each class is different, so new problems may arise while teaching a group of students. Adjust your activities for your students.
Conclusion
The pedagogical model of Project-Based Learning is closely related to STEM education, which is a bit more adaptable in our everyday curricula than PBL. The effectiveness of PBL varies depending on the educator and the kids they have in their classrooms. If the pros outweigh the cons, utilize PBL. You will see a difference in your students and your classroom. If not, look for other ways to make a lasting impression on teaching the required material.