Text features are an essential part of teaching. It is an academic phrase that refers to parts of the text but is not part of its main body. These features are part of the text's organizational structure but don't necessarily appear directly within the nonfiction text.
The most common areas for text features in books are the index, table of contents, captions under pictures or diagrams, glossary terms, labels or features of graphs and charts, and bolded words.
Text features are commonly used in nonfiction work. They are a unique way to help the student understand a key concept or theme. Quality text features will make it possible for students to obtain information about a specific topic or subtopic without reading the entire work to pick out said information.
Text features are an essential part of non-fiction writing. They are used in texts ranging from social studies to professional development courses and help learners understand the materials and concepts given to them even if they don't have time to read the entire thing.
What Types of Text Features Are There?
Whether you are teaching a science course, a history lecture series, or even a reading comprehension class, text features are an important element that allows students easy access to the subject as a whole. We like to do whatever we can to improve the outcomes of our classroom time and our students to retain as much as possible. This is why we are teachers, to begin with.
Text features used within an article can help the readers take a closer inspection of the topic in question and find the answers they are looking for in a project or assignment. These features may allow them to tell them where to find information about vocabulary words and more. Your students should understand each text feature located within a non-fiction example. Please show them a complete lesson to know how an author will organize their ideas and be well thought out to be useful. They can help readers do better in school and the greater world beyond. There are labels and key terms that can keep authors, visual aids, graphs, and more in mind when your son or daughter is reading or working on a paper.
There are numerous text features, so let's discuss the most common text features in turn. Helping your students comprehend these types can be a fun task that supports their efforts to complete their assignments. We want the students reading to know how to use text features to make distinctions that help them process information more successfully.
The 6 Most Common Text Features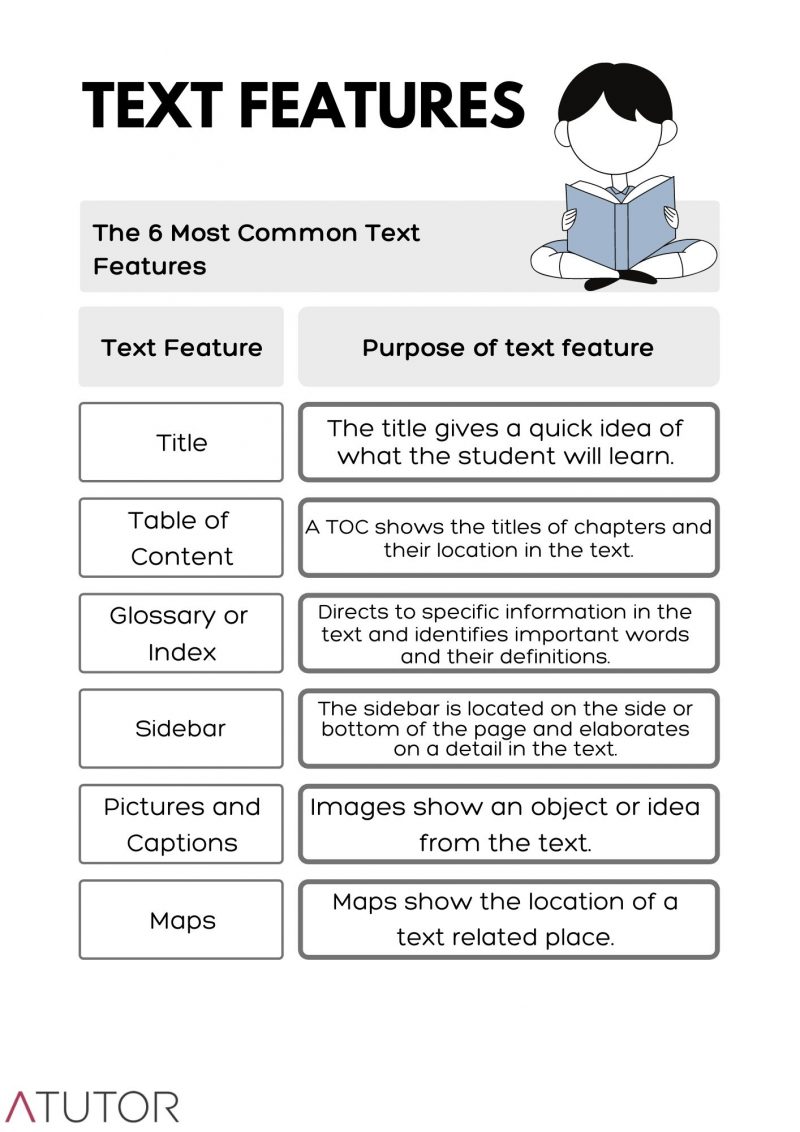 1. Titles
The title and subtitles of nonfiction ideas taught in the classroom are important elements that the reader can use when learning the new concept. Comprehending that information of the name of the website or book title is one way to improve literacy. It can help many to understand a word. It can give examples that help aid in comprehension and retention. Besides, it includes free and different forms of assistance. Therefore the child can see an example that will allow them to think independently and get a good picture of what you are saying in their mind and learn arguments based on the content. As a writer, you must carefully choose each word as this is the first impression for the readers.
2. Table of Contents
This gives the readers a breakdown of the topics covered in the book and where to locate them. This helps immensely. The chapters that are named should show the readers an idea about what they can expect to learn in a given chapter. As a teacher, you should guide your lessons using these resources to digest the receiving information better. It helps to show them examples, show them where in the book they can find this.
3. Glossary or Index
One text features a book often includes for readers is a glossary or index. These are included to provide readers with enhanced comprehension by briefly defining keywords and general concepts within the article. These can aid the students' ability to learn and know the overall meaning of the materials. You can often locate glossary terms located within the text as bold words.
4. Sidebars
This is an informational text, aside from the main text. The sidebars are generally on the side of the page. You can see it as an aside that contains important information that, for whatever reason, didn't fit well within the body of the nonfiction text.
5. Pictures and Captions
If you are a teacher or are writing a book, it is important to create captions that help you understand. Whether you are captioning a chart or a guided activity, the resources you share here must be clear and concise. Make short headings that are free of overly complicated language.
6. Maps
This is another of the basic text features that are found in many different types of informational content. A map or chart can make picturing an event's actual location or period of time easier for the readers. Maps and their related content and heads are included to shed greater light on the material. They allow the reader to create a better picture in their mind of when and where something is happening.
Benefits of Using Text Features
Using text features and helping students understand the common text features and the information and help they can give in figuring out the meaning of a nonfiction reading material is vital.
Creating an activity that allows teachers to discuss the lesson of text features will improve literacy and is one activity that can provide many beneficial results.
The reader should identify on their own the purpose of the charts, order of chapters, print features, illustrations, and more. We crave them to answer questions and get a good knowledge of the material we are giving them. If students could better see the text feature's point, they could get a better grade and think better independently. They better understand the purpose of the site, and they will often internalize the meanings more deeply than they would without text features.
Level and Confidence
The problem is that not all children are on the same level. They are not all confident about their understanding of a print book problem. Including a mini session on text features that explain the purpose of diagrams, bold words, end of chapter problems, charts and graphs, the heading, illustrations, the menu, and more, will help you teach the children things that will aid with their education now and into the future. Making sure that kids have an understanding based on the key concepts may be what it takes to solve the problem of literacy.
Be cognizant that you give two or three examples as this will help the reader know they are with the group and can be comfortable; they take the right information away from a course. A variety of ways to put the information in context so that it is easier to remember and retain the original point of the exam day is another way to make sure every learner understands how to handle what comes next.
Last Words
Kids need ways to locate the information, and the first way we can change the overlooked. Strategies for parents and teachers can quickly help children keep their grades up and achieve their best future. Every kid deserves a chance, and we don't want to look back and see that we could have helped the struggling kid by showing them how to navigate nonfiction works and put the guesswork to the side. Old, boring teaching methods don't help make the next step in life any easier. S0, we should try our hardest to give children what they need to navigate the world around them.