When we stand on our feet all day long, we need to find shoes with the right kind of support that keeps the body comfortable and stress-free. Many shoes virtually trigger pain and discomfort in the body. While the teacher's demeanor will be calm, the mind may be screaming from discomfort. At home, we have the liberty of walking around barefoot, but not outside. Hence, it is time for all teachers and other professionals to listen to their feet and hit the store to make you wear the right shoes. In this article, you will find the best shoes for teachers, reviewed by teachers.
Best Teacher Shoes for Women at a Glance
Best Teacher Shoes for Men at a Glance
Women Teacher Shoes Reviewed
1. Soda Women's VALLET Open Toe Casual Ankle Strap Sandals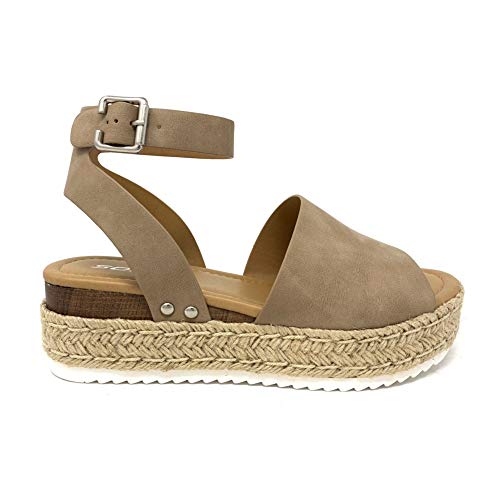 The best-selling summer sandals for women in 2021 are here, and this one is a must-have for every teacher this summer. The Soda Women's VALLET Open Toe Sandals are so comfortable and cute; we love these comfortable shoes. They're so comfy and super chic. They pair perfectly with jeans, shorts, and sundresses for school and anywhere else. If you can, get a few pairs in every color. These comfy shoes are easy to clean since it's faux -leather-like material, and we know that this is an essential factor when you are working with school kids. You can't beat the price!
2. Skechers Women's Walk Joy Walking Shoe
3. Crocs Women's Literide Printed Camo Pacer
And we have more comfy shoes on our list. The Crocs Women´s Literide Shoes are our favorites for many reasons. If you were ever wondering what a great-looking Croc looks like, here it is. This show is perfect for teachers as it is not only Croc's healthcare shoe, but it is also stylish. The on-the-go lifestyle inspired the design. This shoe is perfect for a long school day.
This Crocs healthcare pacer has a lite ride foam footbed, making you feel like walking on air. These comfortable shoes are incredibly light and provide a cushion, which makes you feel like walking on air, drying off fast, and looking great!
4. Nike Women's Air Zoom Pegasus 36 Running Shoes
If you like Nike, have a look at this Nike Women's Air Zoom Pegasus 36 for Women. This pair of shoes are for running, long-distance walking, and sweating. They are comfortable and made to last. So why not get a running shoe for your job as a teacher? You can find them in all different colors. Zoom Air unit provides a smooth, responsive ride and has a slimmer design that offers a sleek, comfortable, conforming fit. It has an excellent grip, so you will not slip through the classroom. The high-resiliency sock liner adapts to your foot for support.
2. Crocs Men's Santa Cruz Playa Slip-on Loafer
Don't worry about wearing crocs. It has long lost its image of ugly fashion. The Crocs Men's Santa Cruz Playa Slip-on Loafer is comfortable for a long day standing in a classroom. Nevertheless, it is trendy, stylish, and, most importantly, comfortable and healthy. These crocs healthcare shoes for teachers are relaxed, modern, lightweight, and come with padded heel cups to provide all-day support, so you might forget they're still on your feet.
Firstly, we want to point out how comfortable they are! They are perfect for people who have wide feet. It feels like walking on air. They are not only light but also great-looking. You can put it on and take it off effortlessly. Teachers' comfortable shoes can be worn to all sorts of social and professional events without looking inappropriate or under-dressed. These crocs are a long-term investment, especially for health reasons.
3. Skechers Men's Classic Fit-Delson-Camden Sneaker
Sometimes, we find ourselves tackling a lot of things at the same time. While some teachers teach in the classroom, other teachers conduct outdoor activities. Multi-tasking is a part of our everyday life, and so can be the Sketchers Men's Classic Fit-Delson-Camden Sneaker. The shoe is 100% textile and synthetic, which means that it drys fast, is breathable, and can be washed. Also, the sole is synthetic and so extra light. Shaft measures approximately not_applicable from arch.
Air Cooled Memory Foam is just a plus for a long and hot day at school. When we ordered a pair, we noticed that the footbed is super comfortable, and the sneaker is light. These comfy shoes look very classy and are worn casually with jeans or semi-formally with khakis to school. Wait for many compliments from other teachers and students.
4. Clarks Men's Bushacre
Is 200 years an acceptable time frame to progress in your trade? If yes, then Clarks has a history to impress. Founded in 1825, Clarks' has been a wonder-maker of desert boots that matches great with any outfit you are wearing. Whether in the classroom or during an annual function, or an after-school party. These shoes show they are a hit! Clarks Bushacre is good-quality full-grain nubuck leather that feels soft on your legs and adds eloquence to your personality.
The color does not look too flashy with its colors. Hence you wear this show in a classroom setting. Dense and high-quality rubber ensures that the material survives harsh conditions like those in picnics and outdoor camps. As a waterproof shoe, the Bushacre can withstand winter and rainy seasons. The stitch-down design ensures that it remains protected from rain and snow. The sole is a traditional rubber that doesn't get bumpy and doesn't collect dirt like other shoes.
The sole has a different canvas layer. It makes the shoe robust, durable, and resole-able. The insole has a cushion to provide extra comfort while walking or performing outdoor activities and avoids strain on your ankles. The fabric lining of the Bushacre makes them comfortable to wear. The padded footbed provides cushion and stability while walking. The footbed, combined with the soft synthetic foot sole, offers excellent shock absorption. Colour and affordability are the two main reasons for the popularity of these comfy shoes.
Last Words
A teacher must dress appropriately, but more important is our health. Face masks are newly added to our shopping list to complete any outfit, and with every great foundation, our feet also need the right kind of support that keeps the body comfortable and stress-free.