This Piper computer kit review will discuss what Piper is, what the kit includes, and how to use it at home and school. Piper provides a computer-building kit that encourages the discovery of parts of a computer, the use of a blueprint, a computer's construction with a raspberry pi computer, and coding.
Founded in 2014, Piper Inc. aims to "help educators inspire students using project-based learning, inquiry, and design thinking." Piper is the ideal project-based learning solution for teaching computer science and STEAM.
Piper computer kit and curriculum are for 3rd-8th grades. The curriculum includes lesson plans aligned to multiple standards, including Common Core, Next Generation Science Standards, Computer Science, and ISTE. Piper is a comprehensive solution to STEAM. The lesson plans are easy to use that engage all learners.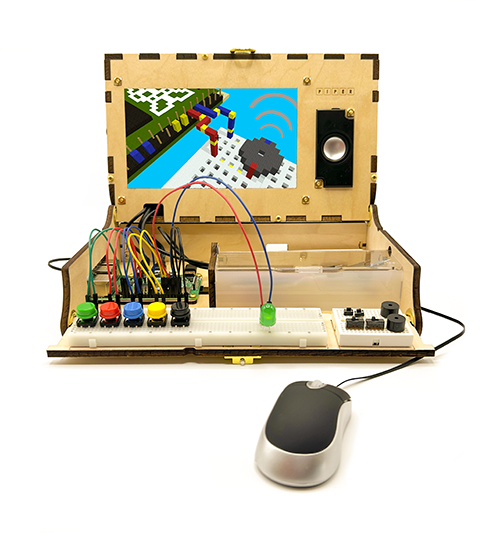 Piper takes teacher suggestions and makes their product even better. The first version of the Piper kit came out, and many things needed improving upon. One of these was the battery life. Initially, the computer would run on the battery, but the battery didn't have an external power source to charge while using. The high-resolution screen would drain the battery rather quickly. The fixing of the battery took place in the second version to charge and play simultaneously. The first version of the Piper Computer didn't have easily accessible volume control. After teachers wrote in and asked for convenient volume control, Piper added one to the screen's top to help adjust the volume more quickly.
How to Use Piper
The Piper computer base is wood, which requires excellent motor skills to assemble. Students will need to use a screwdriver to screw in screws and hinges. The wooden pieces also make the computer less durable than a standard computer.
The kit is for 8-13-year-old kids; however, younger students will need guidance and encouragement not to get frustrated. Once the machine is built, the students can connect to the internet to update the programming. If you connect via wifi, this is a problem since the computer does not come with a keyboard. You will need to enter the password for the wifi and, therefore, need a keyboard. Be sure to have a USB keyboard available and unplug it once the connection is complete.
The curriculum comes with lesson plans that include slide decks, videos, activities, discussion questions, etc. Students will work collaboratively, with the ideal group being two students. Groups can be three people but no more than three students in a group. Using the lesson plans for the kit, you will guide the students through the following steps.
Step 1: Use a Blueprint
Students use a blueprint to construct the raspberry pi 3 computer. There are no words, and students must develop skills to read visuals. It can take one to four hours to put together the computer.
Step 2: Story Mode
Once the computer is put together, students play through specially designed Minecraft levels for Piper. Students will work in teams to complete challenges to build prior knowledge. These challenges will help build more components into the computer. Students will learn current and conductivity, inputs/outputs, binary states, parallel circuits, and grounding.
Step 3: Piper Code
Students will learn how to code new features in a game. They will progress through difficulties in completing the game. Students will access the wi-fi, word processor, and more.
Bundles and Equipment
Piper kits come in a wide variety of bundles. Piper kits are not only available to schools and teachers but also open to parents and homeschoolers. The best deal if you need multiple kits is the classroom bundle. This kit is an upgrade to the old version. It ensures greater student engagement and deeper learning. This kit includes 10 Piper Computer kits, three spare parts kits, ten USB ports for the battery pack, an hour of virtual professional development, and a one-year license to the Piper Premium Curriculum. This curriculum is a cohesive lesson plan and supportive teacher manual.
Piper also offers a bundle of three kits and single kits. The curriculum is available separately as well as spare part kits. Whatever your needs are, Piper will accommodate. They create custom bundles and even rent kits for a month. If you decide to purchase kits, you can apply the rent to the kits' purchase. Piper's willingness to work with schools to buy their kits makes them a trustworthy company that wants to  "help educators inspire students using project-based learning, inquiry, and design thinking."
Positive Aspects of the Piper in Classrooms
Using Piper in classrooms is ideal for kids who love solving problems, working with hands, and needing a sense of accomplishment and completion. Students will learn computer science, problem-solving, critical thinking, and engineering skills. Digital fluency through mechanics, electronics, circuitry, and coding will be developed by students using Piper. The problem-solving abilities come about through following visuals that are in 2D and trying them into 3D actions. They must also overcome progressive challenges. Students work together to build a prototype and test innovative ideas. It creates teamwork and collaboration. Another positive aspect of Piper is the support teachers receive to teach the curriculum adequately. Piper provides educational videos for teachers to learn how to use the curriculum.
Piper is the easiest way to teach STEAM / STEAM. Clear directions boost success, and students learn to view engineering differently. Many students view engineering as adult work with bridges and buildings, but they will see different engineer types after working on their Piper Kits. Students will experience mechanical engineering, electrical engineering, and software engineering.
Teaching students a growth mindset is essential as well. Working with Piper's curriculum allows the students to grow a broader mindset. Failure is a chance to grow. Students will make mistakes building the computers, but they will learn that what they fail is just a learning step.
Using Piper in your classroom allows flexibility and creativity to shine. Everything you need is in the kit. Replacement parts are available for purchase to use the equipment multiple times. The durability of the components will allow the computers to be assembled 20 times without wear and tear. They are not a one-time use kit.
Conclusion
As you can tell from all the positive aspects of Piper's computer kits, we strongly suggest Piper for the STEM curriculum. STEM (Science, Technology, Engineering, Mathematics) and STEAM (Science, Technology, Engineering, Art, Mathematics) are being slowly pushed to ensure students are armored with 21st-century skills to go out into the workplace or head off to college.
Teaching kids how to code at a young age has many benefits. There are computer programs, apps, and software that will teach coding and assemble a computer, but Piper merges the physical assembly with the digital content. It shows the student how hardware works and how coding interacts with the hardware.  Students learn essential concepts, such as the difference between a monitor and a computer. If you are looking for a hands-on STEM curriculum that teaches computer science alongside science, technology, engineering, and math, look no further than Piper and their computer kits.