Is writers work a scam, and is it worth it? In short: Writers work is legit and NOT a scam.
Read our full review below before you sign up – Updated in June 2021.
Is Writers Work Legit and Why Are People Questioning the Company?
Refund Issues
In 2019, writers work was a controversial online service. The company was rated with an F from BBB rating (better business bureau). Many people had a bad experience with the signup and refund policy and were concerned about whether the company was legit.
The company advertised a special offer signup fee for just USD 47.00, and some users struggled to get a refund. After a long time and many bad reviews, the company finally responded to its complaints and solved the refund issue. Since then, the company's customer service has improved.
A Bizarre Marketing Strategy
Another reason why people are still questioning the company is the signup fee itself. The early bird pricing never changes, or a 50% discount from USD 94.00 is supposed to make the signup fee more attempting. Either way, the signup fee is always a one-off payment of USD 47.00 to get access to a lifelong membership.
Check Current Price
The platform offers a lot for $47.00, but it can take some time to get your head around it. So don't give up quickly. Give it a chance and find out what they have to offer. If it is not for you, don't worry. They do have a 30-day money-back guarantee, with fewer complaints about refund issues.
Writers Work Review: Updated 2021
If you are a freelance writer trying to land some writing gigs or perhaps a veteran trying to cast your net into deeper waters, writers work could land you more and better-paying writing gigs. How does it work? And how is it different from other platforms?
I am a freelance writer, and I am glad you are trying to establish the truth in this review. With so many scams masquerading the web, you can never be too careful to avoid being robbed of your hard-earned cash. So, is this all-new writers work the missing link between you and your financial freedom? Well, let's find out in this writers work review.
What Is Writers Work?
It is not a service that hires or provides work to writers directly, but they have a catalog of publications looking for content. Designed with freelance writers in mind, it is a holistic online platform that offers services to new writers, such as training materials for new writers and experienced writers, listings for jobs, an array of features designed to streamline writing from developing content.
Writers Work enables freelance writers to find writing work posted by online clients. Once the job is done, the writers get paid. Writers Work allows writers to work from the comfort of their home and manages all aspects of the writing job, including communication with clients and payments.
There are multiple types of writing jobs available on Writers Work, including writing for content agencies, blogging, copywriting, and social media posts. Writers Work claims to be a one-stop-shop for freelance writers. I couldn't agree more. With the job listing feature, writing tools, and training modules, freelance writers will see everything they are looking for. Writers find active listings of writing gigs available online.
Writers work offers a personal project management system to help freelancers organize tasks, which I find very helpful. It is not a company looking for writers. Instead, it is a resource for writers to use to find job ads presented by other companies. Writers Work has various features to offer to their subscribers, including a list of publications seeking pitches, a web-based text editor, an online portfolio area, and a Writerswork "University.
One of the features I love is the "Freelancers Marketplace," where freelancers can advertise their expertise to be hired for writing positions and can showcase their portfolios and list their services.
The Fee Structure
Writers work does still not offer a free trial. A lifetime payment of $47.00 is the most popular payment option. They do offer a 30-day money-back guarantee. You can also pay per month, which I would not recommend as it does not match the lifetime payment fee.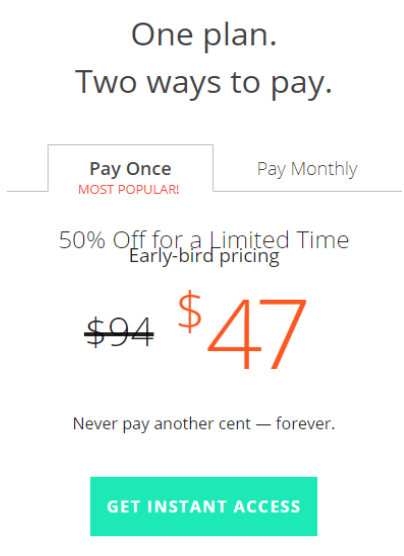 Some Great Writers Work Features
Job Listings
The best feature for a full-time writer is the job listing. Writers Work develops a list of jobs from a variety of sources. This unified list is great because all the jobs are in one location. This feature allows writers to save time instead of looking at multiple platforms. The user can filter the type of job, source, and pay.
Another useful filter is the keyword search. It allows the writer to search specific words when looking for a listing.  The writers can save searches, and users get notified regularly for writing jobs that come up.  You can be notified instantly, daily, or even weekly if the jobs are posted that meet your filter requirements.
Although I am impressed by how the functionality of the job listings feature works, my colleague said that she does not like how the filtering system only shows a few and not a full range of job offers. This is because Writers Work pulls job listings only from other a few sites like Indeed and Problogger. If you use too many filters, there are not very many jobs returned.
It would be handy to filter the newest job postings. With such a filter, users would be able to filter out old posts. Nevertheless, this is no deal-breaker. Writers can subscribe to get notifications whenever new jobs are posted, which is a great feature.
Submissions Section
The Submissions Section is a handy way for freelancers to get paid for their work. In this section, there is a description of what publications are looking for and what their publication entails. It is a place for writers to pitch themselves to publications.
Users find a variety of positions, from entry-level to big publications looking for writers. The salary varies depending on the job. Some writers are being paid per word, some are being paid per article.
Similar to the Jobs Listing Section, you can search for topics that meet your interests. From there, you can add the listing to your projects. You can also email some publications directly to send your pitch.
Another way to submit work for these publications is to go to their website. If you click on the submission entry, it will take you to the publication's website.
When I tested the submission page on the writers' work website, I received many opportunities to submit my payment articles. I got the instructions on what the publications were looking for, how much I would get paid per hour, per article, for 100 words, and how to submit my work.
For my first 2000 word article, I got paid 80 dollars. It's a handy feature for freelancers to eventually build up a regular income and find work from regular clients.
Job Listings vs. Submission Section
While researching the job listings and submission section, I got a little confused, so I dug deeper to figure out the difference between these two sections. The Job Listings will help you find a job from companies that are actively looking for writers.  These are specific jobs and can be done by freelancers, part-time writers, and even full-time writers. You apply for these jobs with your resume and an application.
The Submission Section will help you pitch ideas to publications. Instead of applying with an application, you respond with a short pitch about how you can fulfill their needs and why they should publish your writing.
Project Management System
Writers Work gives writers a place to manage all of their writings. If you are new to writing, the project management system could be beneficial to you. If you are already an established writer with a specific way of staying organized, the Project Management System is probably a feature you won't use.
In the system, you put in the projects you are currently working on completing. You can add sub-tasks to help keep you organized. You can also add attachments that you may need to complete the task. The Project Management System will also track the time you've spent on each project.
I've tried a few different management systems on different sites, and I have to say that I still prefer the old system that I am used to. On the one hand, the writer's work project-management system feature is probably the best for people who have never used such a system before, but it does distract from the actual writing work.
The interface is simple and pretty straightforward but only useful if the writer uses the system regularly. I guess it depends on the writer, whether the system can be helpful or stressful. I like that this feature is cloud-based, so I could use it anywhere.
The Text Editor
My first thought when using the text editor was, why? Why would anyone use this when they can use Microsoft Word, Pages, or Google Docs.
Here is the difference: The text editor updates the writer's work in real-time. It's a bit like Google Docs and comes with a readability score level and score that automatically updates as you write. The readability score is a great feature and can help you stay focused on your audience. The score is also a reading grade level that helps you keep your writing from being too easy or too difficult to read. Other features I found useful were the character, word, and sentence counter.
Like other text editors, it has a spell checker. It is a basic formatting feature and a way to hyperlink within your document. The Text Editor works seamlessly with other features of Writers Work, such as the Project Management System. You can track the time you spend on the document you are writing. You can then link it to a particular project.
Unlike other text editors, you get a light bulb feature that illuminates whenever you highlight a word that links to synonyms or dictionary definitions. The user can activate background sounds that mimic Hogwarts library and outdoor serenity.
Again, if you are a new writer, The Text Editor feature might be a great feature for you; however, more experienced writers already have a word processor they love or use Grammarly.
The Portfolio
Even for entry-level freelancers, creating a portfolio of their work can be significant. The portfolio feature on writers work is fundamental, but I love it because of that. It is probably my favorite feature. You can add a profile image, a cover image, title, and description, plus the freedom to include as many portfolio clips as like. This feature saves users a lot of time and teaches starters how to build a good portfolio.
Much like the Text Editor, the Portfolio feature is pretty basic, but basic is all you need. If you want to create a portfolio that will get you more work, then utilize this feature. The process is pretty simple but will showcase your work effectively. Writers Work will allow you to link your work without relying on other portfolio websites.
Writers Work continually updates this feature to make it more and more user-friendly. One of the newest updates is the ability to link your social media platforms. Once your portfolio is complete, you can enroll in the Writers Marketplace, where employers can find your profile to offer you positions for their upcoming projects. You can decide if you want your portfolio visible or not, and you have the ability to turn it off or on at any time.
I've spent a little bit of time on this feature since I was always too lazy to build a proper portfolio, and I loved it! It was so much fun putting together all my work.
The "University" Feature
The Writers Work University is a place for writers to receive training materials to become better writers and learn how to be freelance writers. This could be done in the comfort of your home and your pajamas if you wanted—no need to go to the local university for a writing class.
You can find video lessons and a blog. The videos are nicely done and well presented.  It is almost like an online writing class that you can watch at your own pace. Writers Work will keep track of the modules you've completed.  You can keep notes and also download supplemental materials if you wanted to learn more.
Although the blog is not technically part of the University Feature, useful information is posted monthly. You can filter the blog posts by the intended audience. The blog writers write for both writers and employers. Some of the writing topics for employers include "How to Hire a Grant Writer" and "Top Benefits of Guest Blogging."
The "University" Feature Review
I like that I can get insight into what employers may be looking for, making me a better writer. Topics written for writers include "From 9-5 to Freelance: Making a Smooth Transition" and "What Exactly is a White Paper.".
The "University" feature is something different and quite interesting. It is a service that offers materials on subjects such as pitching and copy-writing. Other topics include how to use Writers.work's features like "Time Tracking and Project Management" or "Publishing Your First Article."
If you're planning to do writing to your main income, this can come in handy to help. You will get a small but structured course on what you've covered and how you are progressing. And though there isn't a lot of content here, you will get all you need to get started if you're a greenhorn.
As an advanced writer, you could scroll through and only compete for the modules that interest you.
Other courses out there are more in-depth and offer more content, but it is a nice addition for this being an additional feature on an already packed platform.
Our Conclusion
In my experience, I think that that USD 47.00 is not a bad price for what you get. A lifetime membership gives users many resources to kick start or advance their writing career, and it's worth a try. And should you not like it, get your money back within 30 days.
30-day money-back guarantee
None of the features are new or in any way too different from other writing sites, but it's a compelling package for freelance writers who are dipping their toes into a new arena.
All in one, I am not sure if I use this platform lifelong, but I do like the job listing feature.  And finding jobs this way saves me a lot of time, which I can spend doing my actual work, writing.